Motorola/Freescale MC912-9S12-9S12 (Xgate)
secured programmer Rosfar R260
Rosfar R260 S Programmer can program the Motorola/Freescale 68HC912/MC912/MC9S12 microcontroller families, including the latest MC9S12X XGATE-based processor family. The system works as a in-circuit programmer, no needs to remove the chip from the target board nor lifting any pin. It connects to the board via serial connection by using only few wires and it works with secured chips, too. No matter if it is secured or not!
The R260 has a unique Rosfar repair function! If you have in the past destroyed by the use of copied data tools in China, you can connect to the R 260 again. We expressly point out that we will not provide support in the use of any "Chinese Fakes"! Should come after all a DEFECT by the use of these Chines Fakes, then the control units may be repaired charge by our expert.
Installing and using instructions:
Install the software located in the CD on a PC running Windows (95,98,Me,XP tested).
Attach the Rosfar R260 S dongle to the PC RS232 communication port.
Connect the wires to the board as explained in the pictures. In some cases you need to leave the green wire unconnected… in that case, please, be careful that the wire does not touch the board inadvertently.
Run the PC application software and select the desired model of the car you need to program.
Power up the interface with a +12Vdc regulated supply.
Press "Read" button to read the micro, after the decoding phase you can read the decoded old-value.
Type the desired new value and then press the "Write" button. After the writing phase the system checks automatically that the new value has been written correctly to the eeprom. If desired, you can read again the newly programmed value.
Switch-off the power supply after programming. Be sure that the power has been switched off before disconnecting the programmer from the target board.

Watch Rosfar R260 live in action:
Let's proof how good those programmers work. We checked them and already used them for programming!

Items for in-circuit programming with Rosfar R260:
BMW 1,3,5,6 Series CAS2 White (MC9S12)
BMW 1,3,5,6,X5 Series CAS3 Black (MC9S12)
BMW 1,3,5,6,X5 Series CAS3 Black (MC9S12X)
BMW 7 Series CAS 2002 (HC12)
BMW 7 Series CAS 2005 (9S12)
BMW X3/X5 EWS4 (MC9S12)
BMW X3/X5 EWS4 (9S12) incl. 2007 version !!!New!!! (editing of EWS4′s 9S12D64 now works)
Ford Mustang 2007 (MC9S12)
Landrover Freelander 2002 (HC12)
Landrover Freelander 2004 (HC12)
Mercedes A-Class 2004 Key Module (MC9S12)
Mercedes C/CLK C209 ZGW (MC9S12)
Mercedes E/C W211 Key Module (HC12)
Mercedes E/C/CLK/SLK W211 Key Module (MC9S12)
Mercedes ML/R W164 Key Module (MC9S12)
Mercedes S/SL EZS R230 (MC9S12)
Mercedes Sprinter EZS (MC9S12)
Mercedes Sprinter 2007 EZS (9S12) !!!New!!!
Mercedes Sprinter 2008 EZS (9S12) !!!New!!!
Mercedes Vito 2008 EZS (9S12) !!!New!!!
Mini One/Cooper Dashboard (HC12)
Mini One/Cooper EWS4 (MC9S12)
Mini One/Cooper CAS3 Black (MC9S12X)
Volkswagen Crafter EZS (MC9S12)
Background: how we got those R260s in original
Thanks to our international partners across Europe we are so lucky having found a small amount of original Rosfar R260 programmers that were yet untouched. Our team of programming experts checked every single one and all are working well. Do you remember those good old days when you could program with the Rosfar R260? Get back top these days by ordering our original R260. But be aware that we can only sell the few we've got. We will update the available amount of those programmers regularly. So watch the counter below to see if your Rosfar R260 is still available:

If we reached the last 10 available programmers their price will increase by each sale. So if you see in our update area below that we have less than 10 available, you should hurry!
This is no marketing joke!
We are serious about the fact, that there are so many asian fake Rosfar R260 out there that are only crap. If you want to use a reliable programmer like in the days the Rosfar company existed, you should definitely buy this one (if one is left for you!) 
If we still have an original Rosfar R260 available, you should order today:
IMPORTANT: last update 8. December, 2023: only 17 Rosfar R260 available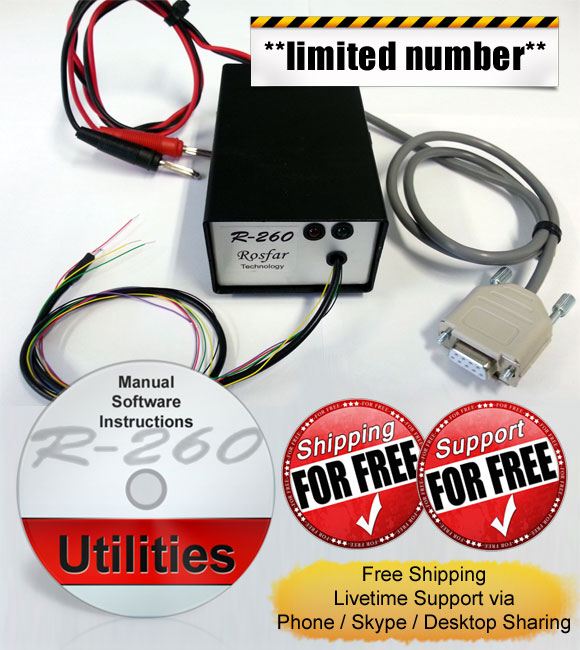 Only 999 Euro (+ VAT)
Get presales questions answered by our experts

Recieve instant access to our secured order form after payment

Get Rosfar R260 package shipped free

Get livetime support via phone or even desktop sharing from our experts
This post is also available in: German