Enigma speedometer – Winter Special
Enigma Tool – Launch Creader V – Professional hot air station
An Enigma Pro speedometer tool   high-end full version includes the following features :
- Enigma Pro full version including speedometer adapter NEC MCU 78K, 9S12 programming tool, MCU programming tool (writing, reading, editing of engine control units and Eeproms)
- Currently the unique super eraser (M35080 Family Eeproms)
- Reading, erasing and writing in seconds without soldering
- Cable (cable link to the list) and an installation CD (full high definition coloured picture guide)
- Support for life in 7 languages
- 1 year warranty on hardware and software
- Education / Training in 7 languages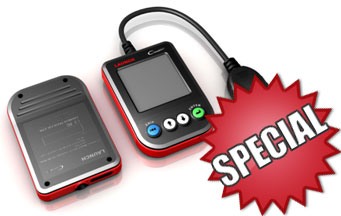 Now BRAND NEW – the full version included the LAUNCH Creader V
The read –erase error programming device for professional workshop use replaces the use of big  testing equipment.
The launcher Creader V has a generous display and convinces with its extremely simple operation. Updates for the Creader can be downloaded for free and daily.
The function:
Error code reading, deleting, freezing with description
Actual values (calculated charge, coolant temperature, intake temperature, intake MAP, speed, O2 sensor location, test system (OBD or EOBD), throttle position, mass air flow, check engine light (duration / km)
Two ways: total, single-evaluation
Special tests (readiness; status MKL, O2-sensor test, test board, EVAP system test
Vehicle Information (VIN when occupied by the vehicle manufacturer, Calibration ID, Calibration verification number)
Languages currently: English, German, French, Spanish
Technical data:
All OBD-2/EOBD diagnostic protocols including CAN
For all 12 volt vehicles OBD-2/EOBD
Display 160 x 160 pixels with backlight
Power supply via diagnostic socket (8 to
Operating temperature: 0 to 60 ° C (32 to 140 ° F)
Storage temperature: -20 to 70 ° C (-4 to 158 ° F)
Dimensions: 126 x 88 x 22 mm
Cable length: 70 cm
Weight: 230 g


The Enigma professional hot air soldering station
The Enigma professional hot air soldering station for professional using is a must have in every workshop! The use of this station is a breeze for everyone and allows virtually no operator error. The professional station is equipped with various nozzles in various sizes. A component jacks (IC Popper, grapple with replacement) is also a standard equipment.
The professional hot-air station is ideal when using BGAs and other electronic components such as QFP, PLCC, SOP and SOJ!
Very short heating
automatically cools down its heatingelements
Enigma full package – as special offer only! The prise is 8999,- Now: 7399,- Euro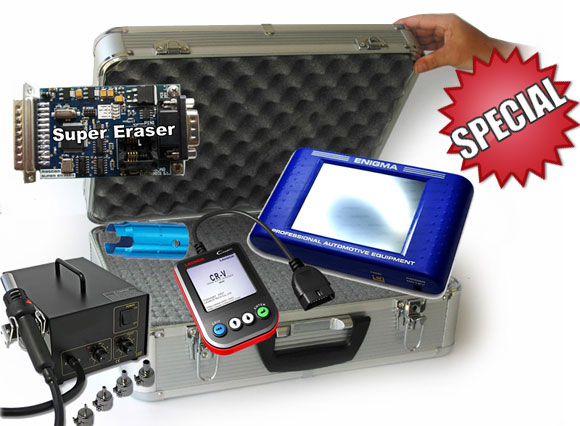 Callback Service (click here)
Send a Message (click here)
Send us your commnets, we will reply asap
Here you can buy a further sensation an the market: The CC 35080 Programmer
Here you will find the brand new BMW CAS 4 + Programmer!!!!
This post is also available in: German